Temperature Self Check Kiosk Record and Monitor
Companies and management have direct access to tools for identifying possible risks of compromised employees and visitors coming to their organization. HR, EMS or other managers can monitor employee numbers and temperatures for full contact tracing. Notifications are also sent to alert when the sanitizer on the temperature kiosk needs refilling. Keep your employees safe by maintaining a barrier of compromised individuals from entering common areas.
NOW AVAILABLE NATIONWIDE FROM KLM MEDICAL EQUIPMENT!
The Workplace Safety Temperature Kiosk Solution, the HS10.
A safe and effective way to screen employees and visitors.
User-friendly and Self-service Kiosk to Check Temperature
HOW IT WORKS:
The process of scanning body temperature and answering compliance questions can be done without any assistance. Risk of transmission between users is mitigated as self-dispensing hand sanitizer is required before the user touches anywhere on the temperature scanner kiosk.
Temperature check kiosk automatically greets employees and visitors with a welcome message. Then instructions to use the hands-free sanitizing dispenser are given before any contact with the temperature scanning kiosk.
After sanitizer is dispensed, the screen on the temperature kiosk provides instructions to swipe employee badge, enter ID number or identify as a visitor. No personal information is collected.
Once identification is complete, it is time for the kiosk to check temperature of the user. A camera view will appear on the screen for users to place their forehead in range of the scanner without touching the screen or temp check kiosk.
If measured within normal range, the user will answer some additional compliance questions on the temperature scanning kiosk before gaining approval to enter facility.
If measured above compliance threshold, a message will appear giving directions on how to proceed including further screening procedures. An SMS notification will be sent from the temperature scanner kiosk to the on-site screening supervisor. An SMS text will also notify responsible party of a failed temperature and/or questionnaire result.
Temperature Verification Kiosk
FEATURES:
Motion sensor prompts greeting and starts instructions
Temperature screening kiosk is completely self-service
Users cannot proceed without using hand sanitizer
Hand sanitizer remains filled with notifications when low
Wall mounting or floor/counter stand
No mess drip tray
10.1" HD interactive touch screen
Contact tracing
Customized compliance questions
Instant notification to on-site supervisor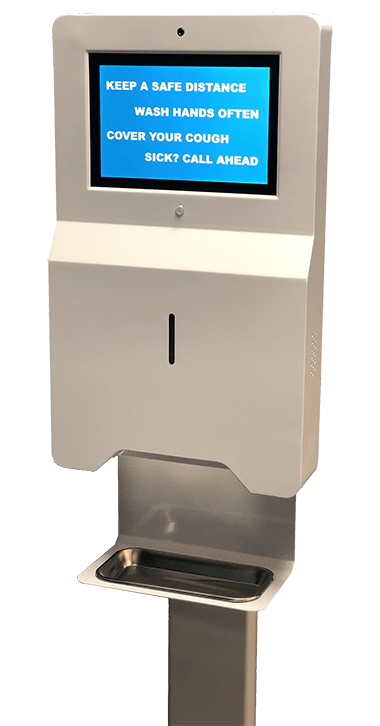 Our Body Temperature Scanner Kiosk is Available Nationwide!
Contact KLM Medical Equipment to place an order.