A WARMING SOLUTION PREVENTS:
Increased Blood Loss Even mild hypothermia significantly increases blood loss by 16% and the relative risk for transfusion by 22%.
Increased Hypothermia Did you know that up to 70% of patients in the OR experience perioperative hypothermia?
Increased Infection Hypothermia is associated with a three­ fold increase in surgical site infection.
Hypothermia adds between $2,500 and $7,000 per surgical patient to hospitalization costs.
The cost of preventing intraoperative hypothermia is much less than the cost of treating the adverse outcomes that affect patients experiencing intraoperative hypothermia.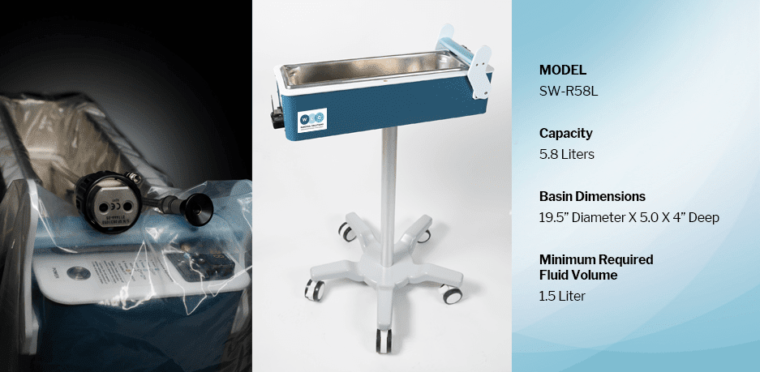 SPECS
Power:
120 Volt A/C, 60 Hz, 3 Amps for Model SW-R38L, 4 Amps for Models SW-R58L and SW-C72L
Fuses:
(2X) Fast Acting, 5 Amp, 250VAC, 0.25″ x 1.25″ Glass Body
Environment:
-40°C to +70°C (-40°F to +158°F) storage and transport temperature
10°C to 35°C (50°F to 95°F) operating environment
0 to 90% Relative Humidity, non-condensing
Power Cord:
NEMA 5-15P
Straight-Blade Connector
Hospital Grade
Control Method:
Temperature is controlled by regulation of heat input based on current fluid temperature.
Temperature Setpoint:
Unit comes with a default temperature setpoint that is pre-programmed at the factory. The default setpoint is the temperature the unit controls to when powered on. Upon special request, units can be pre-programmed at the factory to a default setpoint within the AORN guideline temperature range.
Setpoint Adjustment:
The temperature control setpoint can be adjusted within a range of 70°F to 120°F during operation. Setpoint will return to the pre-programmed default temperature when unit is powered on/off.
Don't compromise the safety of your patients or staff.
Contact KLM Medical Equipment to place an order.